The East Village Community Coalition publishes our free Get Local! Guide to East Village Shops each year. The updated 9th Edition — with over 500 sh0ps listed — is available now! Email  (or leave a message 212-9792-2344) to get your guides today!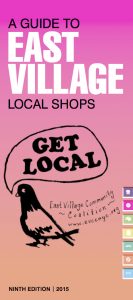 Spending your money locally helps small businesses thrive in the East Village.
Local shopping also:
– Keeps more money in our community
– Creates local jobs with fair wages
– Sustains small business owners who defend our neighborhood's identity
– Chooses creativity and personality over uniformity
The newly available 9th Edition lists more than 500 local merchants and is available in shops and cafes in the neighborhood. Pick up your free copy today!
We are working to preserve small businesses as an integral part of maintaining our diverse, livable community.
Thank you to supporters of the 2015 Get Local! Guide:
Lead sponsors: Lower East Side Girls Club and East Village Independent Merchants Association
Sponsors: 4th Street Food Coop, ABC Animal Hospital, The Bean, Bonnie Slotnick Cookbooks, Ciao For Now, Dance Parade, Dinosaur Hill, Enz's, East Village Vintage Collective (FB), Exit9 Gift Emporium, Fabulous Fanny's, Fourth Arts Block, Eileen Fisher Boutique, Housing Works, Jimmy's No. 43, Lori McLean Fine Jewelry, Parlor, Performance Space 122, Random Accessories, Shape of Lies, Source Unltd, Transportation Alternatives, Upright Citizens Brigade, wild project