The EVCC is working toward historic districts and individual landmarks protections in our community. We worked with neighbors, community groups, and elected officials to save Old P.S. 64 from the wrecking ball and development as a high-rise tower. And we are currently working on two proposed historic districts in the East Village.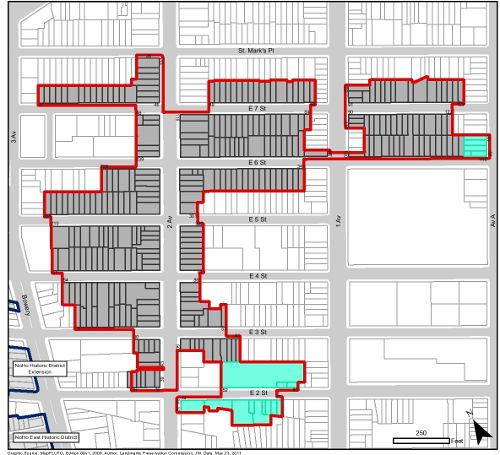 1. The East 10th Street Historic District and The LES/East Village Historic District
The EVCC has advocated for years for landmarks protection of the LES/East Village. In July of 2011, Community Board 3 voted to support the two proposed historic districts in our neighborhood. Historic Districts preserve architectural character and protect neighborhoods from inappropriate alteration, demolition, and out-of-scale development. The Landmarks Preservation Commission designated the East 10th Street Historic District on January 17, 2012. It's the first historic district designation in the neighborhood since the St. Mark's Historic District in 1969. LPC held a hearing on June 26, 2012 for the LES/East Village Historic District. You can still submit your testimony in support of this important district to comments@lpc.nyc.gov.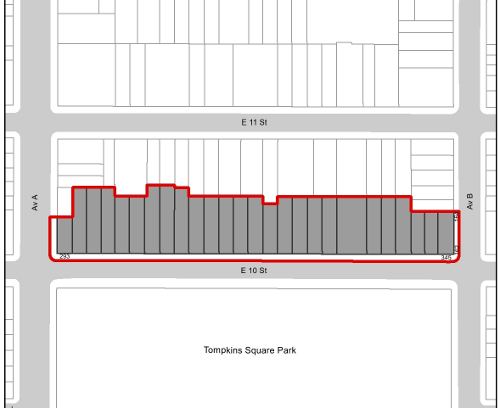 St. Brigid's Church
One of New York's historic treasures, the church on Avenue B and East 8th Street was built by Irish shipwrights in 1848. In 2001, the main church was closed because of a crack in the structure, and three years later, the Archdiocese of New York disbanded the congregation. In 2006, demolition began, but the process was halted and delayed by a series of court decisions. Then, on May 21, 2008 the Archdiocese of New York announced that it had received a $20 million donation to the St. Brigid's Parish and School, and that the Archdiocese would restore and reopen St. Brigid's Church.
The East Village Community Coalition was delighted to learn this news. St. Brigid's Church is one of the oldest buildings in our neighborhood and is of great importance to our community. We thank the Archdiocese and the donor for this tremendous news.
Renovations are ongoing.
Old P.S. 64, the former CHARAS El Bohio
The EVCC initiated and led the effort to landmark this one-time school building between Avenues B and C, from 9th Street to 10th Street. P.S. 64 was designated an individual landmark by the City of New York Landmarks Preservation Commission on June 20, 2006 and confirmed by City Council vote September 15, 2006.
In March 2008, the New York State Court of Appeals, our State's highest court, ruled unanimously that NYC had the right to deny approval to the building's owner for the construction of a "dormitory" under community facility zoning without a lease of at least ten years with a college or university. The EVCC led a group of community and preservation organizations in submitting a Friend of the Court Brief in support of NYC's claim.
DAG 64, Development Advisory Group 64, a coalition of Lower East Side community organizations brought together by City Councilmember Rosie Mendez, has commissioned a study of neighborhood needs and the feasibility of returning old P.S. 64 as a community center.
See our photo gallery of the post-landmark damage to the building
Find out how you can help preserve the building
The Mezeritz Synagogue
In August of 2008, the EVCC joined a coalition of community groups that are trying to preserve this 1910 synagogue on Sixth Street. Good news – Mezeritz Synagogue is included in the proposed LES/East Village Historic District. This proposed historic district is scheduled for public hearing on June 26, 2012.
Get the details about what has been accomplished
Latest News on Our Preservation Efforts