Find open businesses across the East Village
Resources for Small Businesses impacted by COVID-19
Latest updates:
Japanese Folk Dancing and Pop Operas on Ave B Open Street! 2-5 PM SAT JUN 25

Come and celebrate the last Saturday of June on the Ave B Open Street. FAB NYC's OpenArtsLES will be hosting a fabulous and FREE performances by the Japanese Fold Dance Institute of NY as well as present the mesmerizing and interactive Expanding Table pop opera by Mindy Levokove & Co.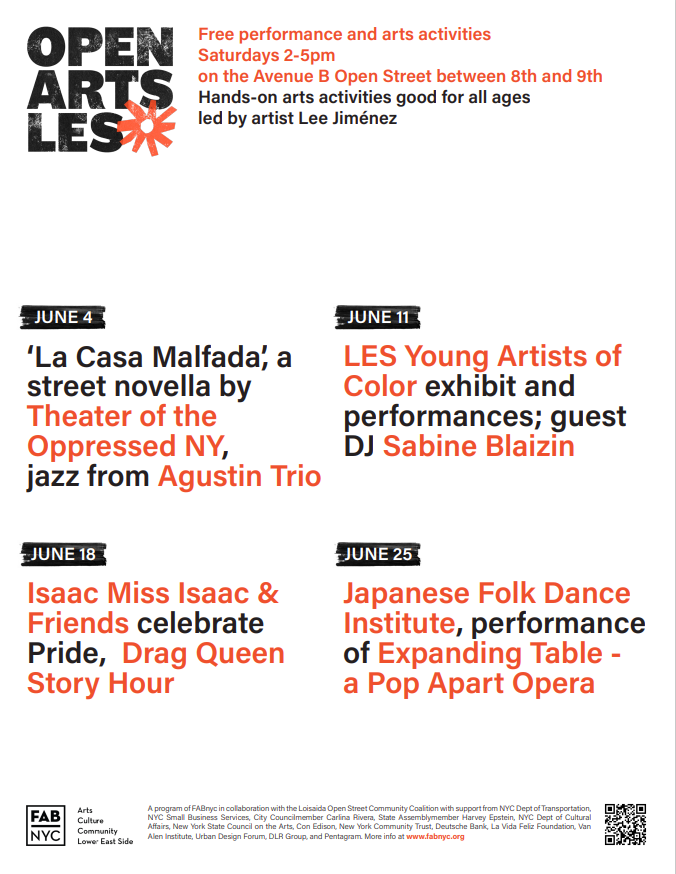 GOLES LES Candlelight Tribute to those we've lost to COVID-19. 5-7 PM FRI JUN 24

Join your neighbors paying tribute to all of the lives lost during the COVID-19 pandemic in a vigil and neighborhood march.
PRIDE on Ave B Open Street, SAT JUN 18 2-5 PM

Come and celebrate Open Arts LES PRIDE with FAB NYC on the Ave B Open Street between 8th & 9th Streets! Join Drag Queen Story Hour with Reverend Yolanda at 2pm, celebrate Queer joy with a powerful performance by Isaac Miss Isaac and Friends at 3 pm, and close out the day with the fabulous Chaos Lavender Part II variety show at 4 pm.