Find open businesses across the East Village
Resources for Small Businesses impacted by COVID-19
Latest updates:
View the Ecological City Pageant and Celebrate LES History Month on the Ave B Open Street! 1pm SAT MAY 14

Earth Celebrations' spectacular procession celebrates climate solution initiatives throughout our neighborhood's community gardens, parks and waterfront. The Ecological City Pageant will pass through the Ave B Open Street (between 8th & 9th Streets) at 1pm, to be followed by performances curated by FABnyc.
*PAGEANT RAIN DATE: SUN MAY 15*
Also join us for Chalk the LES with local artists to celebrate LES History Month! Share your favorite facts about our neighborhood's history or collaborate on a group project (weather permitting).
Catch great FREE workshops and performances on the Ave B Open Street every Saturday afternoon (weather permitting), thanks to our friends at FABnyc! Here's what's coming up:
Street Milonga with IATI at 2 PM
Salsa with Sonido Coseno at 4PM
Artmaking with Swiss Institute between 2-5 PM.
NYC DOT Car-Free Earth Day! SAT APR 23 11AM

Walk, bike or take public transportation to the Ave B Open Street (7-10th Streets) for Car-Free Earth Day: LUNGS' Spring Awakening pop-up garden! Drag Queen Story Hour! performances from Batala NYC, Marching Cobras of NY and Body Stories! workshops from DOT, FABnyc, the Bio Bus, Citizens' Climate Lobby, and Materials for the Arts! seed giveaways from The Hort! children's pony rides from the Black Cowboys of Brooklyn!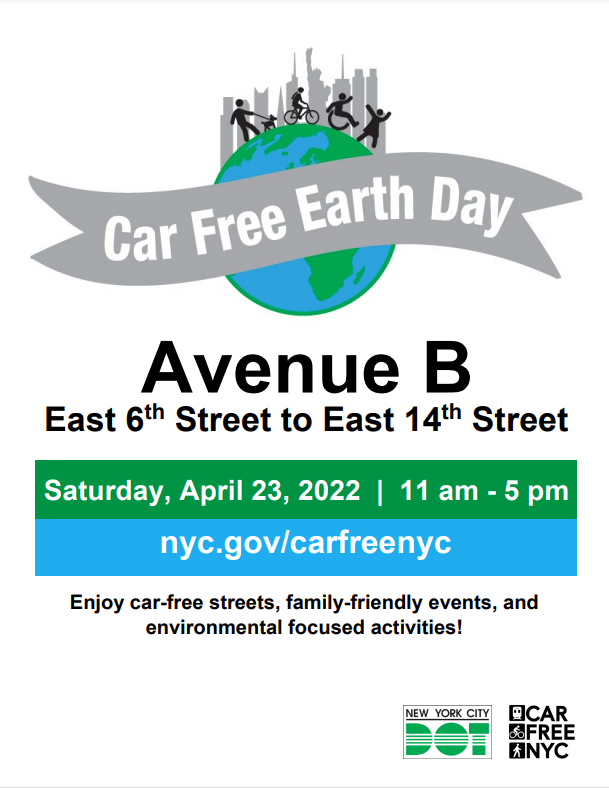 LUNGS Spring Awakening Costume Making SAT APR 16 11AM

Join us for Spring Awakening Costume Making with LUNGS on Saturday, April 16 at Campos Garden (644 East 12th Street) from 11AM-4PM.
Spring Awakening Parade leaves El Sol Brillante (12th Street between Avenues A&B) at Noon on Saturday, April 23.