Wednesday, December 12th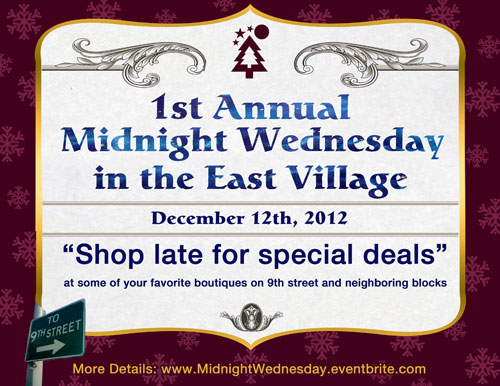 Shop Until Midnight – Help Local East Village Boutiques Survive
Small businesses in the East Village were hit hard by Sandy. The effects linger. If sales don't pick up, it is possible you'll see some of your favorite small, indie boutiques forced to close shop. Let Midnight Wednesday inspire you to do your holiday shopping local in our community where extra business is greatly needed this year!
Midnight Wednesday is a new holiday tradition in the East Village when you can enjoy some festive merriment at your favorite East Village boutiques and take care of all your holiday shopping. We will be open late to suit your busy schedule! Come enjoy holiday treats and special discounts while supporting local shopkeepers. Download your copy of the Get Local! Shopping Guide to plan your route .
Don't wait until the last minute. Shop local. Shop now.
Open until 12am on 12.12.12
Stop by Amé Amé to get a list of participating boutiques and take care of your holiday stocking stuffer needs with a special on gummies. $1 per quarter pound or a pound for $3.99.  (1 pound limit per person. licorice, chocolates, & other non-gummies excluded).
Participating Stores:
Musu 305 E. 9th St
Seyrig   305 E. 9th St
Marjory Warren   309 E. 9th St
Vera Meat  315 E. 9th St
Ame Ame  318 E. 9th St
$1/qtr lb or 1lb for $3.99 (1 pound limit per person. licorice, chocolates, & other non-gummies excluded).
Holiday treats, hot chocolate, tea
10-20% storewide deal + 2 trunk shows
Raffle entry for every business card from other participants
Mascot Studio  328 E. 9th St, 10pm
C'est Magnifique  328 E. 9th St
Clayworks Pottery  332 E. 9th St
Gallery Vercon  332 E. 9th St
Duo   337 E. 9th St
20% off clothing and shoes
Prosecco for customers
9th Street Haberdashery  346 E. 9th St
Enchantments  424 E. 9th St
Mr. Throwback  428 E. 9th St
Grey Era Vintage  435 E. 9th St
Devorado NYC  436 E. 9th St
Pink Olive  436 E. 9th St
Purchase "you are loved" tote bag, get 20% off anything you can fit inside the bag
Pork Pie Hatters  440 E. 9th St
Dusty Buttons  441 E. 9th St
Off 9th Street:
A Repeat Performance Antiques 156 1st Ave
Discounts up to 20%, Live music
Bond Street Chocolate63 E. 4th St
9pm Wine and chocolate samples
Butter Lane  123 E. 7th St
East Village Music Store  21 E. 3rd St
Enz's 125 2nd Ave
Fragrance Shop NY   65 E. 4th St, 9pm
Jane's Exchange 191 E. 3rd St, 9pm
Children's
Jimmy's No. 43 43 E. 7th St
$1 off drink with 12/12/12 receipt from local store
La Sirena 27 E. 3rd, 8pm
10% off purchase
free mango and lime chili pops
Love Shine 543 E. 6th St
15% off purchase, free Love Shine cotton print checkbook cover with purhcase of $20.
Refreshments for shoppers
Parlor102 Ave B
Random Accessories 77 E. 4th St
30% off holiday cards and calendars
Free gift with $25 purchase
Gifts
Rivington Guitars 73 E. 4th St
Rudy Volcano  167 Avenue C
Sustainable NYC   139 Avenue A
ThirsTea 280 E. 10th St
10% off purchase
After shopping, stop by Jimmy's No. 43 with your receipts.  You'll get $1 off with every Midnight Wednesday valid receipt! 
Organized by the East Village Community Coalition and Ame Ame
Businesses added daily. Follow @evccnyc, @AmeAmeTweets, and #MidnightWednesday for updates
RSVP (optional): http://bit.ly/SC0kSO.
Wednesday, October 24th, 6:00-8:30pm
Location: Christodora Building, 143 Avenue B (at 9th Street), Penthouse
Join us for an evening of cocktails, entertainment and local fare at our annual fundraiser. Together we will celebrate two new historic districts and other local achievements.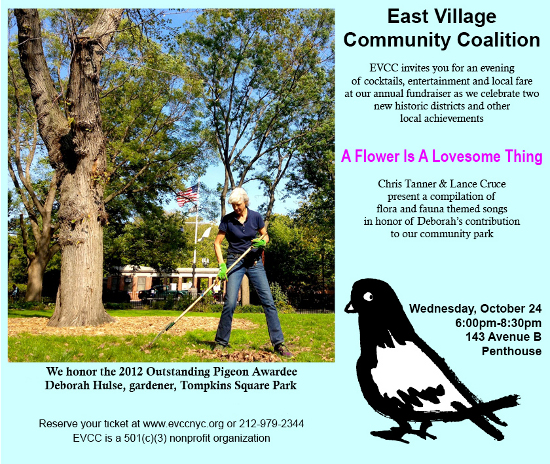 We honor Deborah Hulse, 2012 Outstanding Pigeon Awardee
EVCC recognizes Deborah Hulse for her tireless dedication to beautifying the grounds at Tompkins Square Park. As the gardener, Deborah has kept the neighborhood's largest open space vibrant for thousands of visitors each day. She received a Certificate of Horticulture from the Brooklyn Botanical Gardens while working at Union Square Park. Deborah hopes to continue her decade-long career with Parks at Tompkins Square.
"A Flower Is A Lovesome Thing"
Chris Tanner & Lance Cruse present a compilation of flora and fauna themed songs in honor of Deborah's contribution to our community park.
Tickets (includes one-year EVCC membership)
$50     Neighbor
$150   Friend
$1000 Community Superhero
Your generosity supports historic preservation, better transportation, and retail diversity in our community.