The EVCC works alongside our coalition partners to expand Historic Districts and Individual Landmarks protections in our community. Each of our neighborhood's historic buildings has a story to tell.
The East 10th Street Historic District
The East Village / LES Historic District
In a city of incessant reinvention, it is rare to find blocks that have remained relatively intact from the time they were built. Designation as an Historic District by the NYC Landmarks Preservation Commission offers these streetscapes and buildings the best protection from inappropriate alteration, demolition, and out of scale development. Read more from the Lower East Side Preservation Initiative.
The LPC designated the East 10th Street Historic District on January 17, 2012. Read the Designation Report. This was the first historic district designation in the neighborhood since the St. Mark's Historic District in 1969! Designation Report.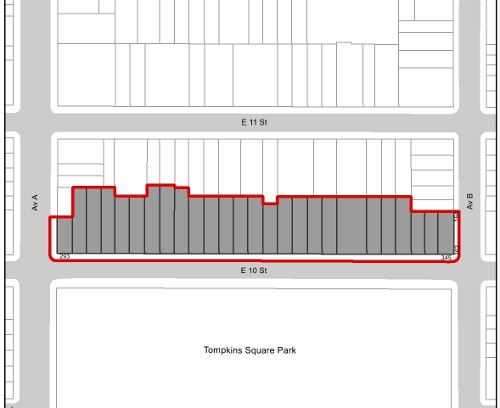 In October 2012, the LPC designated the East Village / Lower East Side Historic District, which runs along Second Avenue from 2nd Street to St. Mark's Place, and on East 6th and 7th Streets from First Avenue to Avenue A. Designation Report.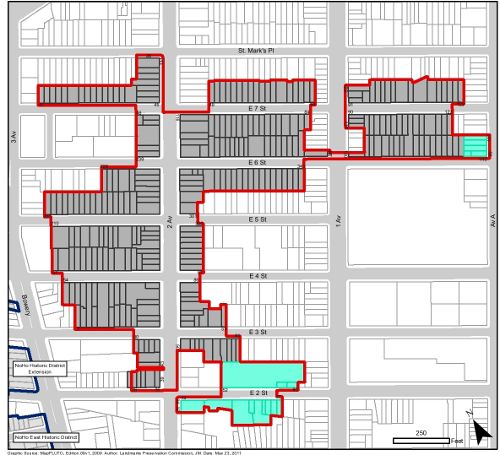 Congregation Meseritz Synagogue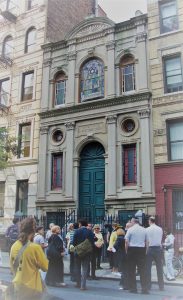 In August of 2008, the EVCC joined with community groups to preserve this historic 1910 "tenement synagogue" at 415 East 6th Street. The Meseritz Synagogue is included in the LES / East Village Historic District.
A condominium deal allowed the building to survive, with the congregation on the ground floor and basement level. Two of the apartments on the upper floors feature the synagogue's original stained glass windows, and one also has an original door as part of a living room wall.
St. Brigid's Church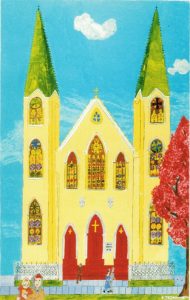 This historic church on Avenue B and East 8th Street was built by Irish shipwrights in 1848. A structural crack forced the main church to close in 2001. Demolition began in 2006, but the process was stopped and delayed by a series of court decisions. In May 2008, the Archdiocese of New York announced that it had received a $20 million donation to the St. Brigid's Parish and School. The Archdiocese restored the building and reopened St. Brigid – St Emeric Church in January 2013.
St. Brigid's Church is one of the oldest buildings in our neighborhood and is of great importance to our community. We thank the Archdiocese and the donor for ensuring the future of this treasure. 
Art by Dave McCutcheon. 
Individual Landmarks
Old P.S. 64 / CHARAS / El Bohio
The EVCC joined with neighbors, community groups and elected officials to save Old P.S. 64 from the wrecking ball and development as a high-rise tower. The EVCC initiated and led the effort to landmark this one-time public school at 605 E 9th Street. After three years of dedicated community effort, P.S. 64, the former CHARAS / El Bohio Community Center, was designated as an Individual Landmark on June 20, 2006 and confirmed by the City Council on September 15, 2006. Designation Report.
See our photo gallery of the post-landmark damage to the building
Find out how you can help preserve the building
Landmarks Preservation Commission Designation Reports
Individual Landmarks
Aschenbroedel Verein (Gesangverein Schillerbund) / La Mama Experimental Theatre Club – 2009
Bouwerie Lane Theater (Bond Street Savings Bank) – 1967
Charlie Parker Residence – 1999
Children's Aid Society, Elizabeth Home for Girls – 2008
Children's Aid Society, Tompkins Square Lodging House for Boys and Industrial School – 2000
Eleventh Street Methodist Episcopal Chapel – 2010
First German Baptist Church (AKA Tifereth Israel) – 2014
First Ukrainian Assembly of God – 1969
Foundation Building, Cooper Union for the Advancement of Science & Art – 1966
Free Public Baths of the City of New York – 2008
German-American Shooting Society Clubhouse – 2001
Germania Fire Insurance Company Bowery Building – 2010
Louis N. Jaffe Art Theater – 1993
New York City Marble Cemetery – 1969
New York Public Library, Ottendorfer Branch – 1977
New York Public Library, Tompkins Square Branch – 1999
Public National Bank of New York Building – 2008
(Former) Public School 64 – 2006
Ralph and Ann E. Van Wyck Mead House / Issac T. Hopper Home of the Women's Prison Association – 2009
St. Marks-in-the-Bowery Church – 1966