What do you see when you look uptown or downtown from the East Village? Towers. EVCC works to protect our walkable, tree-lined streets, one of the main reasons people love living here.
We champion better public transportation for our community and encourage human-powered transportation, the best way to appreciate our neighborhood.
---
Tompkins Square Park Field House Renovation
CB 3 approved NYC Parks' design plans for the Tompkins Square Park Field House Reconstruction in April 2020. The procurement process for the project (which should have been finished in June 2021) is only 5% complete, after which construction is estimated to take another 18-24 months.
---
The City Council approved with modifications LU-548 and 549, related to the East Side Coastal Resiliency Project, at the request of CM Keith Powers, CM Carlina Rivera and CM Margaret Chin.
View the City Council statements at approximately 43:25 here, and the vote at approximately 1:02:45.
---
Closing East River Park
The plan for the East Side Coastal Resiliency Project (our section of "The Big U" plan to provide flood protection to vulnerable parts of Lower Manhattan) will close East River Park in phases starting Fall 2021.
For updates on the ESCR project and volunteer stewardship opportunities, visit East River Alliance and Lower East Side Ecology Center.
Before the introduction of the new ESCR plan, neighborhood groups worked with the City for years on a modest resiliency plan that didn't materialize. The new plan comes with a $1.45 billion price tag and an accelerated timeline.
We all recognize the urgent need for flood protection. No one wants to live through another Hurricane Sandy! But important questions remain unanswered:
How will we be protected from flooding during construction?
How will demolition and construction impact already poor air quality?
Why not base such a massive undertaking on 2100 projections instead of 2050 figures?
An independent environmental consultant hired by MBP Gale Brewer and CM Carlina Rivera issued what's become known as the Deltares report. His recommendations follow:
improve stakeholder engagement
transparent air quality monitoring
provide evidence for the analysis in the Final Environmental Impact Statement
investigate interim flood protection measures
phased construction to keep portions of the park open, with additional open space
additional clean fill for future flood protection against sea level rise
ESCR Plan Approved
A plan for phased construction was announced at the City Council SubCommittee Hearing. CM Powers read a statement from himself, CM Rivera and CM Chin, which said that the Council Members had reached an agreement with the Administration on several items that "will help improve the plan, as well as address community concerns, including:
support for a Community Advisory Group
release of several analytical documents that support the project's underlying design
plans for Envision Platinum sustainable certification for this project
re-engagement around interim flood protection
a guarantee to study the future of the FDR Drive
The Council Members' joint statement asked the Subcommittee to move the application forward as the Council Members continue "to engage with the Administration to finalize the robust list of other key commitments that maintains a balance between flood protection and mitigation efforts while also providing long-term investments in all three districts . . .".
CM Inez D. Barron cast a dissenting vote at Subcommittee, stating that the Hearing she attended on the East Side Coastal Resiliency Program "exposed a lot that was left undone, unsaid, unexplored and unanswered". CM Barron did not find the new offers "substantive enough as they have been outlined here" for her to "support this program moving forward". She abstained from the full City Council vote.
CM Mark Treyger voted in the affirmative, but called out "the unequal attention and application of resources" among the five Boroughs, stating that "every neighborhood deserves a well-thought-out community-based funded plan. So I will support, but with the understanding that we have to help every single borough and every single zip code." He emphasized this inequity at the full City Council vote.
View the Subcommittee statements / vote at approximately 29:25 here.
---
Tompkins Square Park Training Field Stays!
Remedial Park improvements are underway to provide more green space while East River Park is closed: small curbside "rain gardens", tree plantings, solar lighting, playground painting, etc.
An asphalt to artificial turf conversion was announced for Tompkins Square Park without community input (see below).
Local skateboarders who object to astro-turfing Training Field started a petition that went viral (people are still signing on).
NYC Parks has agreed to leave Training Field as is!
Tompkins Square Park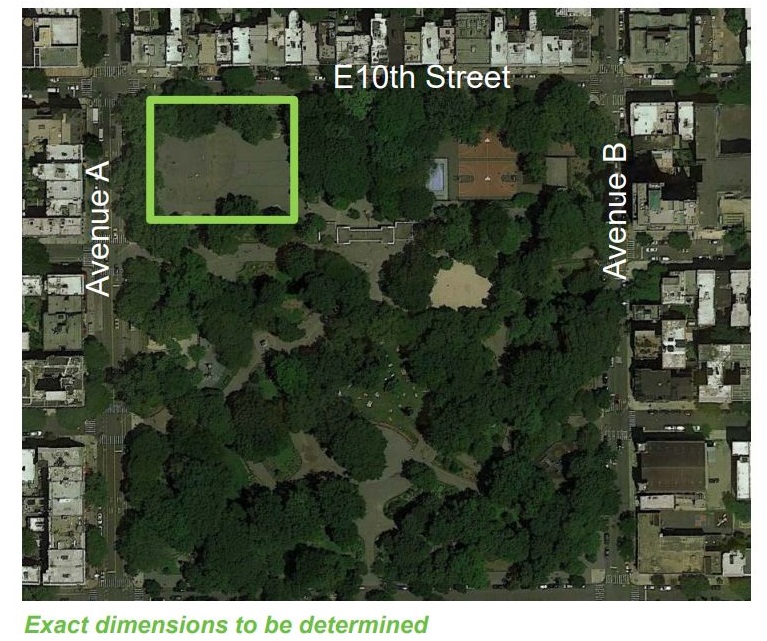 ---
Livable East Side Streets
The EVCC advocated for Select Bus Service (SBS) on Manhattan's East Side and for protected bike lanes on 1st & 2nd Avenues. We worked with Transportation Alternatives on the East Side Action Plan – A Community Vision for Safer Streets.
We continue to push for better public transportation for our underserved neighborhood, including additional stops on the M14 A & D lines in the upcoming grand redesign.
Here's the latest information on M14 SBS service from the MTA.
---
Pedal Power – Kids' Art Bike Parade
The EVCC's Fourth Kids' Art Bike Parade was held in April 2011 in East River Park. Hundreds of children and adults rode art decorated bicycles through our waterfront park. Bike Safety, Learn to Ride, and other bike-related workshops were held the day of the Parade. EVCC worked with local stores, artists, and other not-for-profit and government organizations on this extraordinary event.