Find open businesses across the East Village
Resources for Small Businesses impacted by COVID-19
Latest updates:
Green Map Climate Week Tour 6 PM FRI SEP 25

Outdoor and indoor exhibition tour at MoRUS 155 Avenue C!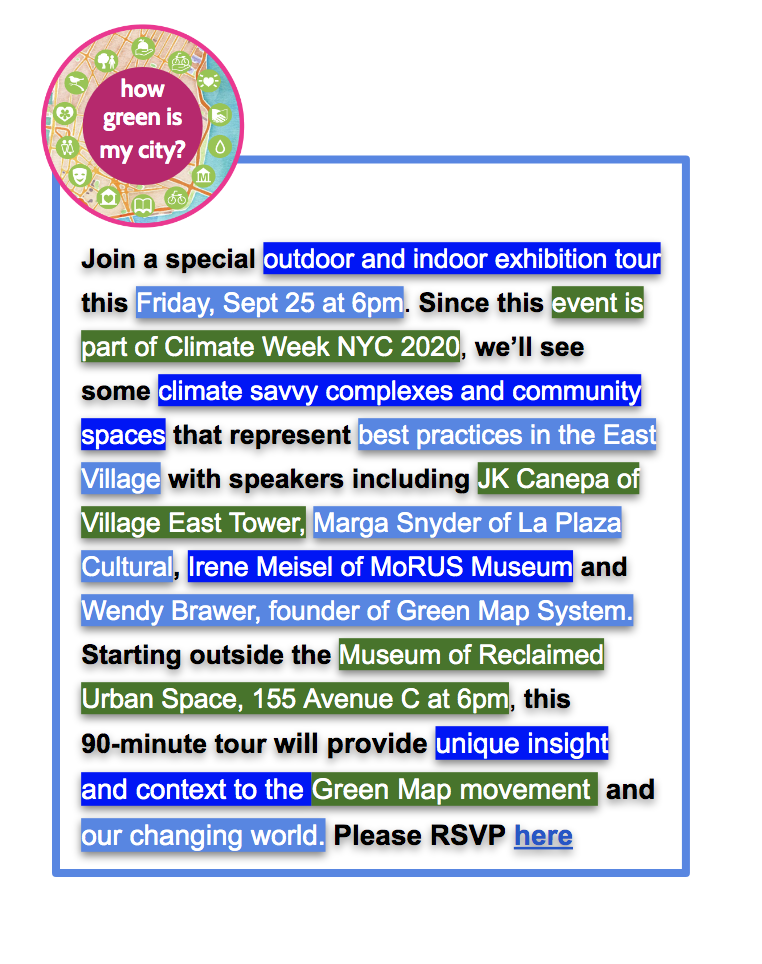 Open by Flint Collective through SUN SEP 20

Take a night walk of the neighborhood with a series of temporary light installations occupying a selection of East Village storefronts. Open to discover in one's own time, order and (socially distanced) space.
NYC Phase 3 Reopening starts Monday, July 6!

Indoor dining is not yet permitted in NYC.
Outdoor dining is permitted on sidewalks and in parking lanes. Seating cannot exceed business frontage and is not allowed in bike lanes, bus stops, crosswalks, etc. See diagrams and a list of restrictions, along with very important additional information in FAQs.
Retail and licensed hair care providers are operating under industry-specific guidelines. Other personal care services may now open: massage, tattoo and piercing, nail salons and hair removal services.
For more details, hit the Resources for Small Businesses button.
Premiere 6 PM THU JUN 25!

Join James & Karla Murray for the YouTube Premiere of their Storefront Photography / Oral History Workshop with LiveChat! Subscribe to their channel for profiles of your neighborhood favorites!