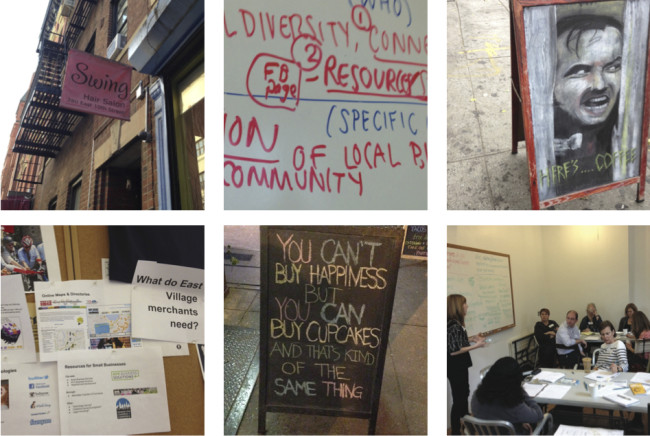 In 2013, EVCC began working with small business owners to promote and advocate for the small and independent businesses in the East Village. Using funding from NYC's Department of Small Business Services and the Manhattan Chamber of Commerce, EVCC is working with local merchants to develop a merchants association. A Steering Committee of local merchants has given the association its official name, the East Village Independent Merchants Association (EVIMA), and meets regularly to continue the formation of the association.
More About EVIMA

Mission:
We work to connect, support, and promote small and independent businesses in the East Village.
Vision:
Our overarching vision is to create a strong and diverse business environment that sustains the unique character of our neighborhood and serves the East Village community.
Who We Are:
We are a coalition of merchants who work in the East Village, one of the most unique neighborhoods in New York City with a rich history and diverse culture.  For the Association's purposes, the neighborhood is bounded to the north by 14th Street, to the west by 3rd Avenue, to the east by Avenue D, and to the south by Houston Street.
What we do:
Though still in formation, EVIMA is on its way to becoming a merchant-led, self-sustaining organization.  Currently, EVIMA is coordinated by EVCC staff and a Steering Committee of local merchants that meets every other month. We envision the merchants association providing:
Resources for growth: equipping merchants with knowledge, tools and networking opportunities in order to grow and improve their businesses.
Visibility for local businesses: organizing initiatives that increase the visibility of local merchants and connect businesses with new audiences.
Partnerships for change: fostering new partnerships with professional and community organizations that contribute to EVIMA's mission and vision.
We recently had our inaugural meeting on February 24, where we invited merchants throughout the neighborhood to learn about EVIMA and join the formation process.
Next Steps:
Neighborhood-wide survey to assess merchant needs and prioritize EVIMA's  initiatives.
Targeted committee meetings to develop specific aspects of EVIMA
Web development workshop for EVIMA merchants
Want to Join?
We are still working to develop the membership structure for EVIMA.  Please email us  to receive updates about membership opportunities with EVIMA.
Want to Lead?
Please email us if you would like to join the Steering Committee,  or want to become a Block Captain, a point of contact for businesses on your block.
Keep in touch:
Educational and networking opportunities for local merchants
News about business-related issues and needs in the East Village
Updates on the formation of EVIMA
Do you have an inquiry, opportunity or piece of advice to share with other merchants?  Send an email to biz (at) evccnyc (dot) org to have your item added to the EVIMA newsletter.
In the Media
The Small-Business-Saving Squad of the East Village
Off The Grid (GVSHP Blog) – March 12, 2014
East Village Small Businesses Join Together in Merchant Association
DNAinfo – March 3, 2014