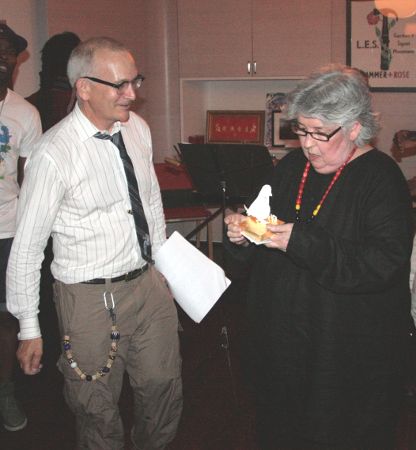 The Trudy Silver Group played to a packed house July 28, overlooking Tompkins Square Park and the Manhattan skyline. The cocktail party was hosted by the East Village Community Coalition in honor of long-time East Village champion Judy Rhodes. Judy is a jazz producer, photographer, benefactor and devotee extraordinaire, and resides in the Charlie Parker House at 151 Avenue B. For her lifelong achievements and service, Ms. Rhodes was awarded the highly-coveted Pigeon Award by Michael Rosen.
More than 100 guests, including City Council Member Rosie Mendez, State Senator Daniel Squadron and State Assembly Member Brian Kavanagh, celebrated, toasted and danced the evening away to the cool beats of Trudy Silver's jazz quartet. In addition to the music there was a winner-take-all raffle drawing that included some of the best shops and restaurants in the neighborhood. Proceeds from the evening will help the EVCC produce the 3rd Edition of the Get Local! Shopping Guide, strive toward Formula Retail Zoning to protect small business and initiate historic district protection for sections of our community.
In other EVCC news, be on the lookout for the 3rd Edition of the Get Local! Guide in the coming months.  More information soon to come!