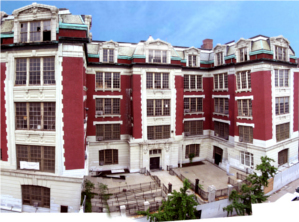 The Department of Buildings is currently reviewing an application to convert former P.S. 64/ Charas into a 500-bed dormitory. The Cooper Union has entered into an agreement with the developer to take a portion of the building for student housing. We reject the proposal to use P.S 64 as a dorm.
COMMUNITY USE – NOT DORMS
Sign on to demand that the building be returned to the community!
Respect our community. Respect this community treasure: Old P.S. 64
located at 605 East 9th Street.
Old P.S. 64, a designated New York City landmark, has a long and valued
history serving our community. This building could easily serve our
community again. Dormitory use of this building does not serve our
community. Cooper Union should not house  students in old P.S. 64.
We ask that old P.S. 64 be returned to use for our community.
P .S. 64 Image Archive
Have photos of the building from the past twenty years? Email director.evccnyc@gmail.com to add them to our archive. Include the month, year, and name of photographer.
Read more about the history of P.S. 64 and our work to protect the building.