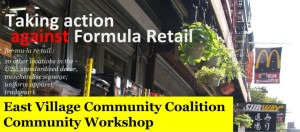 EVCC invites you to voice your opinion about the current state of chain stores within the East Village. Join EVCC November 19th from 6pm-8pm at the Neighborhood Preservation Center, for a community workshop on Formula Retail. The workshop is open to all but space is limited. Please contact melanie@evccnyc.org or call 212-979-2344 if planning to attend.
Formula Retail Community Workshop
6-8pm
Tuesday, November 19
232 E 11th St, New York, NY 10003
RSVP to: melanie@evccync.org or 212-979-2344
We have several open volunteer positions at the workshop, all allow participation in the discussion. If you'd like to volunteer please mention it in your RSVP.