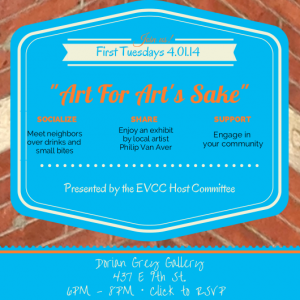 Tuesday, April 1, 2014
6pm – 8pm
Dorian Grey Gallery, 437 East 9th Street
On View: Secret Gardens: Lowell Nesbitt & Philip Van Aver
 SOCIALIZE  Meet your neighbors over drinks and small bites.
 SHARE Enjoy current exhibit by veteran East Village artist Philip Van Aver.
 SUPPORT Engage in your community.
About the Artist
Though Philip Van Aver has lived in the same apartment on East 6th Street since 1969, this exhibition of his works dating from 1976 to 2014 is his first gallery show to take place in the Tompkins Square Park area of the Lower East Side.
During the over forty years Philip Van Aver has lived on the Lower East Side, he has been very involved in the politics of the area. Beginning in 1976 he became a member of the Citizens Committee to Keep the Ottendorfer Library Open, which succeeded in having the exterior and parts of the interior landmarked. Since then, he has worked with preservationists, building owners and elected officials to designate the Charlie Parker Residence and The Children's Aid Society building, both on Avenue B; P.S. 64 and other area sites. As a steering committee member he has worked with the Friends of Tompkins Square Park in 1985 and 1991 to stop proposed redevelopment of the park. He was on the executive committee of the Lower East Side Joint Planning Council, which was mostly concerned with housing issues, and was a founding member of CoDA, a Lower East Side Democratic party activist organization. More recently, he worked with the Lower East Side Preservation Initiative to implement the massive Second Avenue/ East Village historic district proposed by the Landmarks Preservation Commission.
About First Tuesdays
The First Tuesdays meetup series is designed to bring together residents of the East Village in the hope that socializing, sharing and supporting one another will lead to a stronger, more informed community. Our First Tuesdays series is presented by the East Village Community Coalition's Host Committee, dedicated to creating enjoyable and informative events throughout the community on behalf of the EVCC.