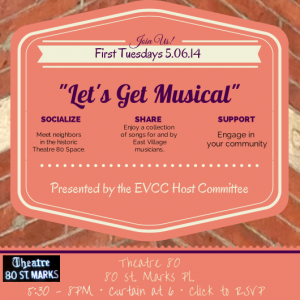 Tuesday, May 6, 2014
5:30pm – 8pm
Theatre 80, 80 St Marks Place
 SOCIALIZE Meet your neighbors in the historic Theatre 80 space.
SHARE Enjoy a collection of songs for and by East Village musicians.
SUPPORT Engage in your community.
About First Tuesdays
The First Tuesdays meetup series is designed to bring together residents of the East Village in the hope that socializing, sharing and supporting one another will lead to a stronger, more informed community. Our First Tuesdays series is presented by the East Village Community Coalition's Host Committee, dedicated to creating enjoyable and informative events throughout the community on behalf of the EVCC.
About The Artists
Odetta Hartman writes songs of greek myths and traveling; of pride, Pynchon, and fairy tales; of animals and body parts and made-up words.
Brassy, nuanced and surprisingly vulnerable, Odetta's timeless voice commands silence, enticing her audience to the edges of their seats. With only a few measures of foot-stomping and banjo strumming, Odetta's infectious spirit rabble-rouses listeners to indulge in the energetic musical worlds she procures.
Equally as comfortable playing solo as she is in front of an orchestra, this young artist delivers stellar performances that showcase her multi-instrumental talents, her captivating stage-presence, and a freshly blended sound she's coined: COWBOY SOUL
www.odettahartman.com * http://odettahartman.bandcamp.com/
Ponies Will Bite You! fuses pop sensibility, folk riffs, and classical violin, with playfully introspective lyrics for a genre-straddling singer-songwriter taste on the lighter side of angst. They perform often at Rockwood Music Hall and other venues in the Lower East Side.
ponieswillbiteyou.com * ponieswillbiteyou.bandcamp.com * facebook.com/ponieswillbiteyou
About Theatre 80
Theatre 80 was among the first of the cultural institutions to begin the Lower East Side Arts Movement that resulted in our modern-day East Village neighborhood. Beginning during Prohibition, 80 Saint Marks Place was a vital destination for performers of all kinds. Jazz greats such as Thelonious Monk, Harry "Sweets" Edison, John Coltrane and Frank Sinatra all performed at the space.
It was also visited by a host of great names in theater, many of whom left their names in the cement of the sidewalk immediately outside the space. A partial list includes Gloria Swanson, Joan Crawford, Myrna Loy, Ruby Keeler, Joan Blondell, Kitty Carlisle, Allan Jones, Winnie Shaw, Fifi D'Orsay and Joan Rivers.
Recently, Theatre 80 was formally recognized by The Greenwich Village Society for Historic Preservation and honored the Village Award for its place in the history of the community.
Theatre 80 remains dedicated to the East Village at present. They regularly present a range of productions, from traditional forms such as Shakespearean theater and flamenco dance, to the cutting edge avant-garde works of new authors.
Theatre 80 has provided space at reduced rates and pro bono for community meetings, local film-makers, playwrights, 12 step meetings, and memorials for members of the community. They concurrently welcome both public and private school groups for matinees and tours of the theater. With this dedication to making performing arts spaces more accessible, Theatre 80 never stops evolving and continues to be a mainstay of the community.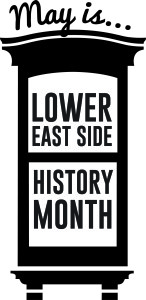 In celebration of Lower East Side History Month
See the full schedule of events at www.leshistorymonth.org