Join neighbors, community organizations and elected officials for an update on recent developments  at Old P.S. 64/CHARAS. A Community Meeting will be held at Loisaida, Inc, 710 East 9th Street on Wednesday,  January 18th at 6:30pm.  You cans also help by emailing the mayor and inviting others! See links below.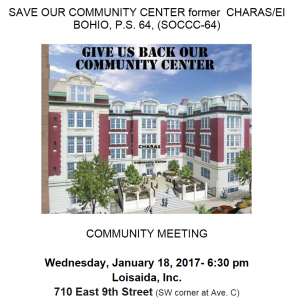 Stand with your neighbors and community partners, again, to ask the City to return Old P.S. 64 / Charas / El Bohio to the East Village as a community and cultural resource.
What is the urgency right now? The developer has obtained work permits for a portion of the building which goes against the DoB's own regulations on partial leasing.  Since DoB has refused to rescind the permits we need to take it to the mayor. What can you do now.
Email or print this flyer and invite every community member to join us on Jan 18th to urge Mayor DeBlasio to have the DoB to rescind these improper permits immediately, before Old PS 64 is damaged beyond repair.
Write Mayor de Blasio and urge him to reverse the Department of Buildings' ruling
A brief history:
In 2005 community members, organizations and elected officials joined to get Old P.S. 64 landmarked and the City limits uses here to "community facilities."
Old P.S. 64 has sat vacant and fallow since the developer has tried repeatedly to tear the building down has removed its valuable architectural features, and get around the the usage restriction by making "dorm for hire."
The EVCC, GVSHP and our community allies asked the City to tighten up the dorm rules to prevent developers from slipping in "dorms for hire" and other uses disguised as legitimate dormitories.
The developer owner is seeking to get around these tighter rules that we fought for. He has hired the same lobbyist involved in the scandalous lifting of the deed restriction for the nearby Rivington House.
Read more at The Villager and at GVSHP.  For a comprehensive history, see P.S. 64 – CHARAS, El Bohio: A History.
What can you do?
Come to the community meeting about saving Old P.S. 64/Charas-El Bohio on Wednesday, January 18, 2017- 6:30 p.m. at Loisaida, Inc., 710 East 9th Street (SW corner at Ave. C) – flyer here.
Print out this flyer and distribute to friends, neighbors, local businesses.
Write Mayor de Blasio! Urge him to reverse the Department of Buildings' ruling and not allow a phony "dorm for hire" to go into old P.S. 64