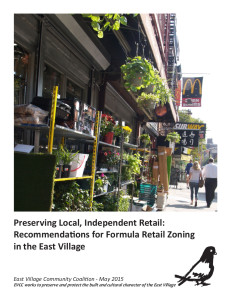 The EVCC announces the release of Preserving Local Independent Retail: Recommendations for Formula Retail Zoning in the East Village.
The East Village is known for its colorful history of immigration, art, music, community advocacy and grassroots movements. Over the years the community has been home to a variety of artists, writers, and political activists — each group playing a significant role in shaping the neighborhood and creating the unique place that exists today. Today the East Village is one of New York's most diverse neighborhoods, made up of residents from a variety of backgrounds and of various economic means.
Retail in the East Village has predominantly been made up of small, independent, local businesses. The small storefronts found throughout the neighborhood have provided affordable, low-risk opportunities for small business owners and local entrepreneurs. Today in the East Village a shift can be seen from independent stores to chains or franchises as well as from small storefronts to those with larger footprints. These stores are changing the landscape of the neighborhood by altering the shopping choices from independent to mass-market retailers. The expansion of these chains creates even more challenges for local, independent retailers.
Like many in other municipalities, the EVCC has determined that the presence of chain businesses can be detrimental to community character and local economies. Preserving Local, Independent Retail is presented as part of our Get Local! campaign launched in 2006 to promote a diverse retail mix of independent stores that reflect the neighborhood's character and serve its population. Three possible methods of formula retail restriction zoning are proposed within the report. These options — aimed at informing decisions by East Village policy makers — have been crafted using case studies, legal suggestions and pre-existing zoning frameworks from other parts of the country.
As trends of gentrification and homogenization continue in New York, with respect to both the built environment and retail landscape, a timely solution is needed to preserve the individuality of the city's neighborhoods. Placing restrictions on formula retail establishments via zoning amendments provides a path to preserving the rapidly changing East Village. Creating an East Village Special District using our framework will emphasize the importance and uniqueness of the community. Contact us to learn how you can help us create the Special Retail District the East Village needs.
Download your copy of the Preserving Local, Independent Retail Report