Put Saturday October 4 on your calendar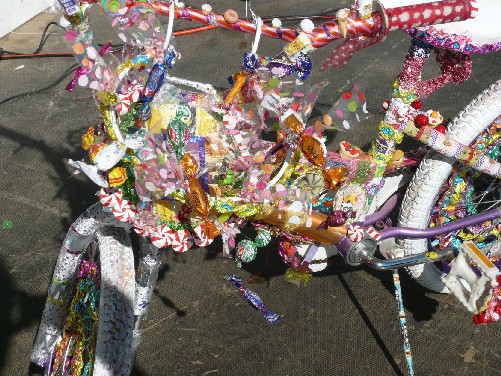 The neighborhood's kids are psyched, waiting to unveil bikes they've transformed at the bike decorating workshops in September. The Rude Mechanical Orchestra and the Bari Koral Family Band are ready to play. Local chefs are cooking up treats for after the parade. And 47 bike-less kids now have donated bicycles that have been tuned up, decorated, and ready to take home after the parade.
The East Village Community Coalition presents…The Second Annual Lower East Side Kids' Art Bike Parade!
When:  Saturday, October 4, 11 AM- 2 PM
Where:  Tompkins Square Park, northeast corner at Avenue A and 10th Street
Who:  You,  joined by Lower East Side neighbors, friends, and kids of all ages — from toddlers to senior citizens
What:  Decorate your bike either at our advance workshops or at our on-the-spot bike-decorating event starting at 10 AM before the parade — then hop on and join the crowd as we parade our human-powered wheels around the neighborhood
Why:  The East Village is always ahead of the game.  This time, it's the youngest people in our neighborhood showing adults, the city, and the entire world how fun and healthy it is to enjoy non-polluting transportation powered by our own legs and (in this case) by our own imaginations.  By encouraging a new generation of bike riders, we cut back on the pollution that causes global warming and we establish a happy future for our neighborhood.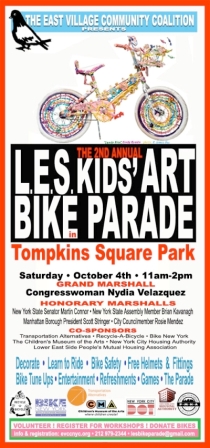 Last year, more than 100 people — including Commissioner Margarita Lopez, Councilmember Rosie Mendez, Congresswoman Nydia Velazquez, Borough President Scott Stringer, and Assembly Member Bryan Kavanaugh — rode their wildly decorated bikes around our neighborhood.  The event was attended and supported by The Lower East Side Girls Club, The Children's Museum of the Arts, Recycle a Bicycle, the Clown Brigade from Time's Up, the Rude Mechanical Orchestra, The Department of Transportation, the New York City Housing Authority, and many many other community groups.
This year's ride promises to be an even bigger and better party.
New for 2008:  A special mini-parade for the tiniest toddlers and tots who will zoom their tricked-out scooters, bike seats, and carriages around the basketball courts, where they will also be entertained by carnival games.
Plus:  There will be refreshments, free bike helmets and bike repairs, t-shirts by donation, and much more.
HOW TO JOIN THE FUN:
Reservations for the ride and the workshop are not required.  However, it's very helpful if you reserve your place in advance.
**To let the EVCC know that you will be riding on October 4,please register here.
**To findout about our super-fun bike-decorating workshops in September, click here.
**Volunteers are also needed to share the fun at the workshops and at the ride.  To sign up as a volunteer, please register here.
**Want a preview?  Check out our nutty photos from the 2007 Kids' Bike Parade>
Don't miss this once-a-year neighborhood bash!  Put October 4 on your calendar now! 
Timeline and Schedule for the Day:
What's happening on October 4:
10:00 am-11:00 am: last-minute bike decorating, bike helmet fitting, Learn to Ride workshops.
11:00 am: speakers including Manhattan Borough President Scott Stringer, New York State Assemblyman Brian Kavanagh, and City Councilwoman Rosie Mendez.
11:30 am: parade forms up; music by Rude Mechanical Orchestra
12:00 noon: the parade!
1:00 pm: Celebrate with music by the Bari Koral Family Band, free snacks, games, face painting and more.
1:45: Bike decorating winners announced; raffle prizes (free raffle for all participants)