By supporting Formula Retail Zoning, the EVCC tries to keep our neighborhood free from chains
Earlier this summer, on June 12, the Graduate Cener for Planning and the Environment  at Pratt Institute had some good news for the Lower East Side.  In a presentation at St. Mark's Church for the Neighborhood Presentation Center, the Pratt Group discussed the first draft of a study that provides a comprehensive plan to encourage small local businesses on the Lower East Side and discourage large chains.
The primary recommendation of the study, lead by Professors Vicki Weiner and Jonathan Martin, is for the East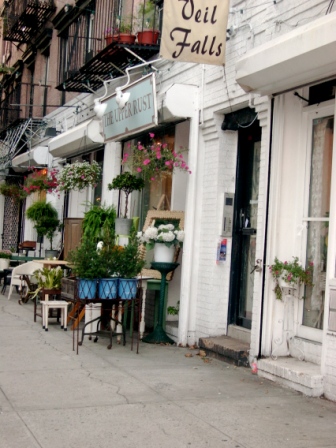 Village to seek designation as a "special district."  This would allow the area to enforce Formula Retail Zoning — which is an imposing name for a system that sets some limits on the types of businesses in an area in order to preserve the local retail environment. The study, which was commissioned by the EVCC, is one of the most comprehensive investigations into Formula Retail Zoning in New York City's history.
The EVCC's goal is to present the study, when it is completed later this year, to locally elected politicians, city planning commissioners, and the Mayors office and help them understand why the "special district" designation is so important for the future of the neighborhood.
As part of that process, videographer Nicholas Whitaker (who did such a great job with his video chronicle of the first Lower East Side Kids' Art Bike Parade in 2007) has been asked by the EVCC to make a film that demonstrates the way local merchants improve street life.  For instance, he will contrast vibrant streets full of local merchants — like East 9th Street — with "dead zones" where chains have invaded, like the stretch of Houston where Whole Foods has generated a wall of glass that discourages community-style street life.  The film, which will be shot this fall, will be ready for presentation to authorities by the end of this year.
As the EVCC gets closer to making an official presentation of a plan, community support will be needed.  If you have thoughts about the value of Formula Retail Zoning, please log-in or register in the left hand column of this page, and post your thoughts below.