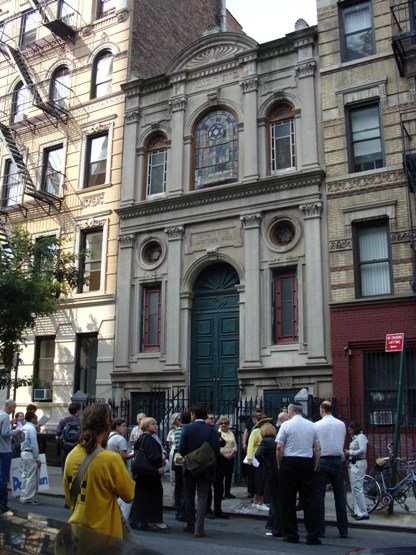 The EVCC joins a coalition of groups that want to preserve the 98-year-old Mezeritz Synagogue
On August 14, the East Village Community Coalition was the lead organizer of a press conference about the future of a historic synagogue at 415 East 6 Street:  The Adas Yisroel Anshe Mezeritz Synagogue.
For a variety of reasons, it looked as if the 1910 synagogue might be sold and demolished — which would have been a great loss to the community from a cultural, historical, and architectural perspective.
Joining with members of the congregation and local preservations groups (including the United Jewish Council of the East Side, Lower East Side Jewish Conservancy, The Greenwich Village Society for Historic Preservation and The Historic Districts Council), the EVCC helped spread the word about what was at stake.
A letter was drafted to the Landmark Preservation Commission, requesting an evaluation for landmark designation.  The EVCC also joined others in presenting a request to the State and National Registers of Historic Places, asking for the synagogue to be added to the list.  Though that designation would not prohibit demolition, it would officially confirm the value of the building.
As Dr. Gerald Wolfe, an expert on Lower East Side synagogues, says, this synagogue is "a jewel… an irreplaceable asset to its congregation, New York, and the world.  Its demolition would be an irretrievable, unforgivable loss."
Since the press conference, the development company that was involved with the plan to eliminate the synagogue announced that it is not currently involved with the project. The EVCC will continue to collaborate with other neighborhood groups in working to preserve the beautiful structure.
The Letter to the Landmark Preservation Commission: download it (pdf)
The Letter Requesting Inclusion in the State and National Registers of Historic Places:download it (pdf)