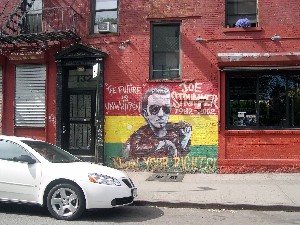 The EVCC has a proposal for 2009, and we want your thoughts
The East Village Community Coalition has started working on a proposal for the Avenue A Amble, a series of car-free days on Avenue A in 2009.
After the positive community response to car-free Sundays on Fifth Avenue — when cyclists and walkers happily took over the road — we think it's time for a similar holiday from combustion engines in our own neighborhood.  In fact, car-free hours could be even more successful on a low-rise street like Avenue A that is full of local restaurants and businesses that would benefit from the increased foot traffic.
To help with formulating the project, the EVCC asked an artist to mock up an initial poster, which you can download here (pdf file).
As we continue to develop the idea, we'd like to hear from others in the community.  Do you support occasional closing of Avenue A to cars?  If so, during what days and times?  Are there any details that could be addressed in advance to make this an even greater success for local merchants?
If you have experience setting up similar street closings in New York or another city, we'd greatly appreciate it if you'd share your experience or advice by sending an email.
Have thoughts about the Avenue A Amble?  Please log in or register in the left-hand column of this page, and then post your comments below.