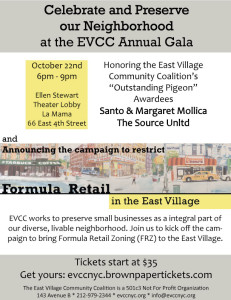 The East Village Community Coalition invites you for an evening of cocktails, entertainment and local fare at our annual fundraiser as we honor local achievements.
October 22nd, 6pm
La Mama, Ellen Stewart Theater Lobby
66 East 4th Street
"Oustanding Pigeon" Awardees
We honor Santo and Margaret Mollica of The Source Unltd, 2013 "Outstanding Pigeon" Awardees Santo Mollica has served the East Village for more than thirty years at the Source Unltd, a small print, copy, and office supply shop on East 9th Street. A long-term resident, he and his wife Margaret offer friendly and professional services needed by neighbors, artists, musicians, and nearby businesses.
Formula Retail Zoning
Announcing the campaign for Formula Retail Zoning! EVCC is working to preserve small businesses as a integral part of maintaining our diversified, livable neighborhood. Other cities and towns have successfully adopted specialized zoning, requiring stores to be unique and protecting neighborhoods by limiting or outright banning chain retailers from locating there. Join us to kick off the campaign to bring Formula Retail Zoning (FRZ) to the East Village.
Your generosity supports historic preservation, better transportation, and retail diversity in our community. Learn about our ongoing work in the East Village at www.evccnyc.org.
Can't attend? Click here to make a donation.