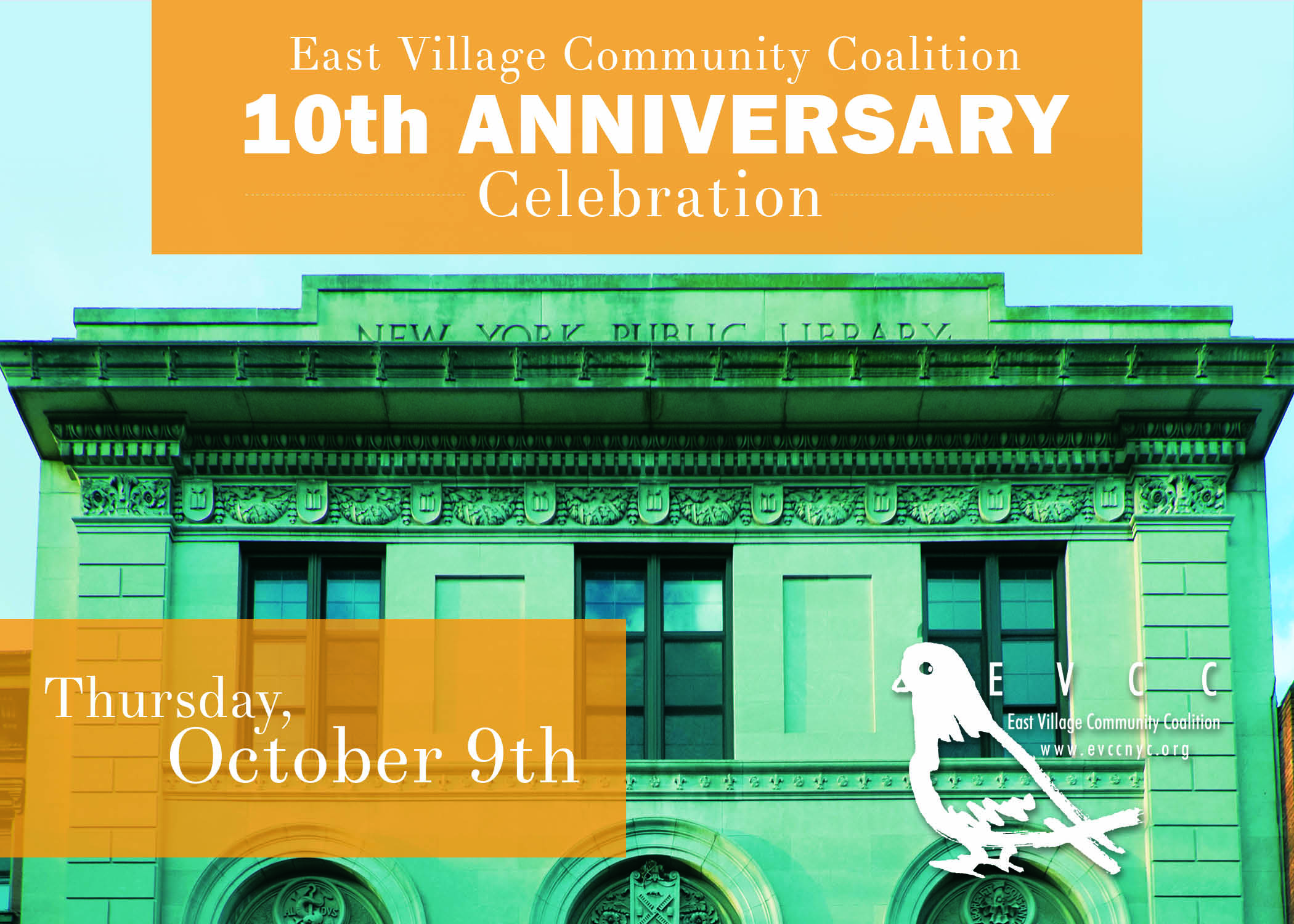 Thursday, Oct. 9th marks the 10th anniversary of the East Village Community Coalition's founding. Help us reflect on past accomplishments, current and ongoing work to protect the architectural and cultural heritage of our historic neighborhood.
Join us for an evening of music, drinks, small bites and to:
Honor Michael Rosen, founder and president of EVCC
View artwork by James & Karla Murray
Take a Taste of Ten Years from East Village Restaurants
Thursday, Oct. 9th, 6:30pm
Housing Works Rooftop
743-749 East 9th Street
New York, NY 10009
Tickets
Neighbor, Merchant – $35 in advance, $40 at the door
Guardian – $100
Pigeon – $250
Angel $1000
Tickets can be purchased from Brown Paper Tickets
Unable to attend the event, but still want to donate? Visit Network for Good to contribute to EVCC's work.
A Taste of Ten Years featuring long-standing East Village restaurants…
Butter Lane
Caravan of Dreams
Casa Adela
Casimir
Gruppo
Hummus Place
Native Bean
…with generous prizes from:
The Bean
Butter Lane
Chinese Hawaiian Kenpo Academy
Declutter 123
Goat Milk
Good Beer
HousingWorks
Jillery by Jill Fagin
La Palapa
Love Shine
Manhattan Chamber of Commerce
Marjory Warren
James and Karla Murray
Pageant Book & Print Shop
PS122
SoulCycle
Sunny's Florist
Sustainable NYC
The Wild Project