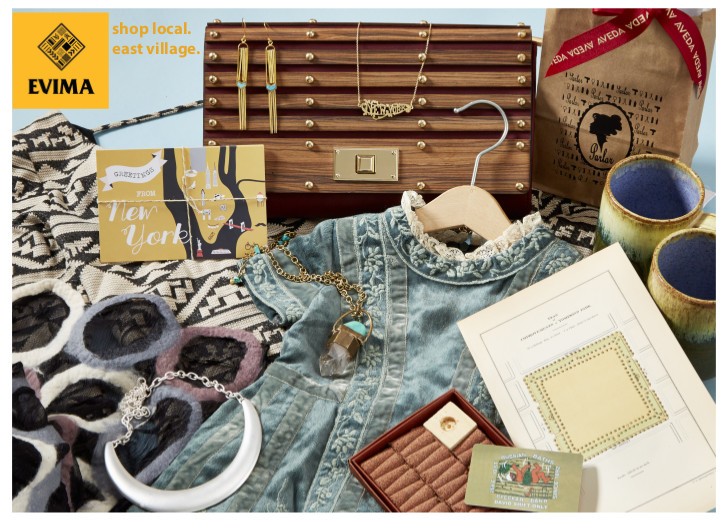 Thursday, December 18th, 6-9pm
Join the East Village Independent Merchant Association for an evening of special offers.
Stop by EVCC from 6-10pm to meet neighbors, participate in our toy drive to benefit the Women's Prison Association and enjoy holiday treats.
Participating East Village Merchants
Butter Lane Bakery
123 E 7th St
(212) 677-2880
www.butterlane.com
Butter Lane Bakery specializes in making the best cupcake with local and quality ingredients. This is the cupcake for "grown ups." A beautiful, delicious treat for every holiday.
20% off all items for walk in customers
CADET
305 E 9th St
646-633-4560
www.cadetusa.com
CADET is Brooklyn-based men's apparel company and store, taking inspiration of the great military academies of the USA. All garments are designed and produced by CADET in Bushwick.
20% discount
Chinese Hawaiian Kenpo Academy
34 Avenue A, 2nd Floor
646-692-6155
www.chka.org
Shamburger's CHKA is the premier downtown martial arts school, training adults & kids in Kenpo Karate & Kickboxing for over 20 years in the East Village. Open 7 days a week. All classes are open to beginners!
Free drop-in martial arts classes at 6pm, 7 pm and 8 pm for first-time martial arts students only. Mention EVIMA for a free month of classes.  Be sure to wear or bring easy to move in clothes.
Clayworks Pottery
332 E 9th St
212-677-8311
www.clayworkspottery.com
For 40 years, Clayworks Pottery has been an East Village presence, providing finely crafted stoneware and porcelain for kitchen, tabletop and home decor. Vibrant, original, eminently useful mugs, plates, bowls, teapots, vases, goblets, espresso cups, pitchers and so much more wait here to delight the eye, entice the hand and warm the heart for the holidays and after.
Cloak & Dagger
334 East 9th Street
212-673-0500
www.CloakAndDaggerNyc.com
Our store has been voted "most great stuff per square foot" in many best of NYC shopping guides. All price points are available at Cloak & Dagger but you'll look like you've spent a million bucks!
10% off store wide + complimentary spiked cider and eggnog
Dinosaur Hill
306 E 9th St
(212) 473-5850
www.dinosaurhill.com
Dinosaur Hill is a 30 year old store specializing in 'Handmade Wonderments, Toys, Clothes and Gifts." We are here to help you choose the very best thing you can find for friends, family, and …yourself.
If you sing a verse of your favorite song (or Row, Row, Row Your Boat), you will receive a 10% discount
May have items suitable for WPA Teen Gift Drive
Dorian Grey Gallery
437 E 9th St
(516) 244-4126
www.doriangreygallery.com
Dorian Grey Gallery celebrates the artistic history our neighborhood, carrying on to the present and future with a special emphasis on works by artists and subject matter from the East Village. Visit us to learn about, enjoy and collect works celebrating our neighborhood's rich artistic legacy.
Original limited edition poster from artist John "Crash" Matos with every purchase above $200
Duo
337 E 9th St
(212) 777-7044
www.duonyc.com
Wendy and LaRae Kangas are the sisters behind the petite East Village boutique, duo nyc, which features vintage + modern clothing and accessories. Their aim is to introduce emerging independent designers and to provide a well-edited vintage selection. "We want duo nyc to be an inviting place for our clients and to express our own vision by filling our shop with pieces that are timeless and modern."
20% off storewide + complementary drinks
May have items suitable for WPA Teen Gift Drive
Dusty Buttons
441 E 9th St
(212) 673-4039
www.dustybuttons.com
Dusty Buttons carries vintage and new US made or Fair Trade Certified dresses. Our heart is with the 1940s and 1950s so there is a definite nod to that era. We also carry new European footwear, a gal can never have to many beautiful comfortable shoes!
10% off store wide + refreshments and sweets
Exit 9
51 Avenue A
(212) 228-0145
www.shopexit9.com
The Exit9 mission is to put a little fun, joy, diversity and diversion into daily life while adding flavor to the neighborhood. We hope you'll find our creative selection of gifts and novelties fun. And every morning when we unlock and roll up the steel gates we know that, along with our fellow small businesses nearby, we are keeping up the vibe.
15% off all items (including those already on sale!)
Suggestions for WPA donation: hats, gloves, t-shirts, jewelry, wallets, handbags
FlyDove
197 E 7th St
(212) 300-4370
www.flydovenyc.com
Fly Dove NYC is a fashion style brand and boutique retail concept for the sophisticated, fashion conscious shopper seeking on trend women's fashions with a bit of urban edge.
15% off entire purchase + hot chocolate, tea and cookies
May have items suitable for WPA Teen Gift Drive
Gallery Vercon
332 E 9th St
(212) 473-0506
www.gallery-vercon.com
Gallery Vercon features contemporary women's clothing and accessories ranging from hats to scarves to locally designed jewelry. Unique materials and designs make this eclectic boutique an East Village must-see.
10% + 15% off select purchases

The Girls Club
402 E 8th St.
(212) 982-1633
www.girlsclub.org
The Lower East Side Girls Club provides a place where girls and young women 8-23 can grow, learn, have fun, and develop confidence in themselves and their ability to make a difference in the world.
Organic Hand Dipped Chocolate Pretzels with each order of $35.00
GOAT-MILK Kidwear
523 E 12th St
(212) 500-1437
www.goatmilknyc.com
GOAT-MILK Kidware is a brand of basics for babies and kids. All our garments are made of 100% organic cotton. The line is made up of unique and simple pieces like thermal tops and bottoms and includes onesies, underwear and tank tops.
20% off all purchases
Jane's Exchange
191 E 3rd St. 212-677-0380
www.Janesexchangenyc.com
Thanks to an interesting and diverse population of consignors, we have an extraordinary and always changing selection of clothing and toys.
Sweet treats available
May have items suitable for WPA Teen Gift Drive
La Sirena
27 E 3rd St
212-780-9113
www.lasirenanyc.com
La Sirena is a Mexican folk art shop in NYC .We are known for fun, unique, traditional marketplace merchandise to collectible folk art from artisans of many regions of Mexico.
Traditional Mexican calendar with purchase
May have items suitable for WPA Teen Gift Drive
Love Shine
543 E. 6th
212-387-0935
www.loveshinenyc.com
For over 16 years, Love Shine has been been making cool and eclectic bags that are both stylish and durable. Locally produced by hand, our canvas bags (adorned with a variety of ribbon trimmed images) can be seen all around city.
20% discount store wide + refreshments. Open till 9:30 p.m.
Parlor
102 Avenue B
(212) 673-5520
www.parlorhairsalon.com
Parlor offers the elevated craft of hairdressing with a variety of specialties in all hair textures. Guiding you through superior customer service, utlizing the most current methods and trends we transform your image to where you want it to be.
Drop in and request a facial or make an appointment, and receive a complimentary lip saver.
Pageant Print Shop
69 E 4th St. (212) 674-5296
www.pageantbooks.com
Pageant Print Shop sells 15-20th century original maps and prints. Constantly changing stock. Unique, yet affordable. New York City a specialty!
10% discount
Physical GraffiTea
96 St Marks Place
212-477-7334
www.physicalgraffitea.com
Physical GraffiTea sells organic loose leaf teas and herbs by the ounce as well as tea pots and accessories. We also offer drinks to stay or to go, including hot or iced teas, lattes, matcha, and Kombucha on tap. We believe in using tea and herbs to support health and happiness in one's life. We are located in the ground floor retail space of the historic "Physical Graffiti" buildings that graced the cover of the Led Zeppelin album of the same name.
In-store tea samplings
Pink Olive
439 East 9th St
212-780-0036
www.pinkolive.com
Pink Olive is a whimsical gift shop for happiness and home. We make gift-giving fun, easy and attainable for little ones to loved ones.
Spend $25 or more between 6-9pm and get a free holiday stickers and labels pack ($10 value).
May have items suitable for WPA Teen Gift Drive
rena REBORN
117 E. 7th St
212-253-2595
www.renareborn.com
Working gals on a budget and trendsetters seeking one-of-a-kind pieces will find seriously cheap garb at this modern and vintage women's clothing, shoes and accessories boutique.
50% off all clothing
May have items suitable for WPA Teen Gift Drive
Russian & Turkish Baths
268 E 10th St.
212-505-0665
www.russianturkishbaths.com
The Russian & Turkish Baths is a 120 year old spa located in the East Village. Our facilities include 5 saunas and steam rooms, cold pool, roof deck and restaurant.
$10 off admission, $25 admission and 20% off services
Shape of Lies
127 E 7th St
(212) 533-5920
www.shapeoflies.com
The Shape of Lies is 98% pure Manhattan. We showcase small artists producing locally and offer unique designs & signature pieces. Opened in 1979 we're now one of the last Mom & Pop live work storefronts in the East Village.  As our neighbors know; when the lights on you can always knock for gifting emergencies….we live in the back!
Stop in and bring your coupon. OPEN 12 to 9 every day till Christmas.  Shop 24/7 at ShapeOfLies.com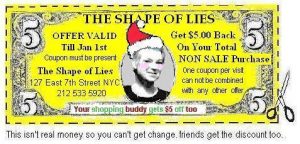 Swing Salon
280 E 10th St 212.677.2008
http://www.swingorganicsalon.com/
We care about your hair and your well-being. Join us in our cozy, clean-air salon.  Step inside, take a deep breath, and you instantly know you're in a special place.
Discount for new customers
East Village Community Coalition
143 Avenue B
(212) 979-2344
www.evccnyc.org
Doors open until 10pm! Take a shopping break to meet neighbors, participate in our toy drive to benefit the Women's Prison Association and enjoy holiday treats.